$950.00
Regular price
$1,299.00
Availability: In Stock
Shipping: Free U.S. Shipping
Are you an educator? You may be able to receive special pricing by requesting a custom quote.
Request a Quote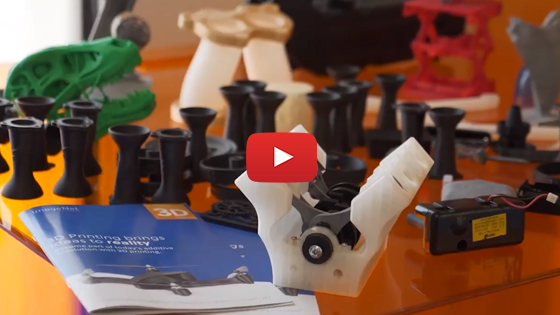 We're passionate about 3D printing.
Watch the video to learn what makes buying from ImageNet unique.
Description
Featuring the Anthracite Gray Casing and ready to use straight out of the box, the Craftbot 2 is a great 3D printer for beginners and 3D professionals alike. As an upgrade to its predecessor, the Craftbot Plus, the Craftbot 2 features wireless connectivity, allowing the user to control and send files through a wifi network. The Craftbot 2 features a heated and removable build plate, USB connection. The color touchscreen allows users to customize printing parameters easily, even during the printing process.
Features
Wireless connectivity
New to the Craftbot 2, wireless capabilities allow the user to control the printing process via the Craftbot App, including the ability to start and stop the 3D printing process and customize your finished product. 
Printing accuracy
The CraftBot 2 provides a very high printing quality with 100 micron/layer resolution.
A closer look at the Craftbot 2's fan cooled print head.
Printing size
Despite its relatively small footprint, the CraftBot 2 has a substantial build volume of of 250x200x200mm (approx. 10" x 8" x 8").
Color LCD touchscreen
A unique color navigation menu located directly on the machine gives the user updates and information on the printing process and allows the user to reconfigure the printing process user the screen, even during the printing process!
Heatable & removable build platform
User friendly features like a heated build plate to prevent warping and sticking and a removable build platform to allow for easy cleaning make the CraftBot a great choice. 
USB connection
Unable to use the wireless connection? A USB connection allow the use to send prints and customize your printing process directly from your computer.
The user can also easily and efficiently upload prints to the device using a pen or USB drive, dropping them directly onto the printer. 
CraftWare
Craftunique's advanced printing software features an easy to use interface and advanced slicing algorithm to create faster conversions and quick and improved results. 
Techincal Specifications
Build Volume
250x200x200 mm
Z-Index Resolution
100 micron (ultra)
200 micron (high)
300 micron (medium)
Build Plate Type
heated aluminum
Get a Custom Quote
Ready to get started? Request a personalized quote for the Craftbot 2.
Filament & Supplies
The quality of your filament and replacement parts matter. That's why were your leading source for 3D Printers printing supplies.
Filament
3D printers offer support for several materials with varying applications, including PLA, nylon, PVA, carbon fiber, ABS, kevlar, and more!
See all filaments
Supplies & Parts
3D printers offer support for several materials with varying applications, including PLA, nylon, PVA, carbon fiber, ABS, kevlar, and more.
See all supplies & parts
Service & Support
A printer purchased with ImageNet eliminates the heartache of negligible support.
Our technical expertise and support available when you need it.
Trained technicians that specialize exclusively in handling 3D printers.
Choose the level of support that's right for your organization's needs.