Availability: In Stock
Shipping: Free U.S. Shipping
Are you an educator? You may be able to receive special pricing by requesting a custom quote.
Request a Quote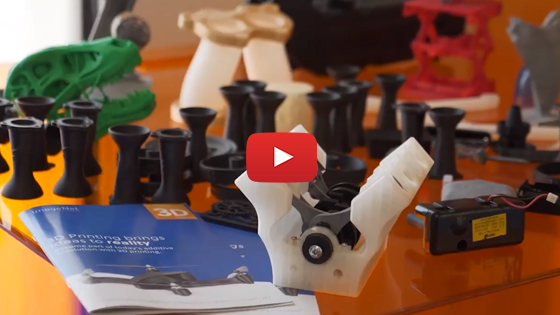 We're passionate about 3D printing.
Watch the video to learn what makes buying from ImageNet unique.
Description

Updated from the original Ultimaker 2, the Ultimaker 2+ is consistent, reliable and ready to perform! Equipped to support a large variety of premium materials, including ABS plastics, this machine will enhance and support a large spectrum of applications. Featuring a heated build plate, the ability to swap nozzle sizes and an impressive print size to machine size ratio, the Ultimaker 2+ allows the user to accomplish a wide range of 3D printing goals. 
Features
Geared Feeder
Equipped to improve grip and torque (which prevents filament skipping in motor), Ultimaker's geared feeder places increased pressure on the filament, while in turn reducing heat exposure from the motor. This feature also allows the filament to be easily removed or inserted using the grip release button.
An innovative gear feeder increases filament reliability.
Succesful prints whatever the complexity
The Ultimaker 2+ is able to create difficult and detailed print jobs easily, due to extensive research and development, allowing the machine to create prints with bridging, overhangs and small, accurate detail in all sizes and shapes. 
Swappable Nozzles
Ultimaker 2+ comes with a Nozzle Kit, which features four nozzle sizes that are easily changed (0.25, 0.6, and 0.8mm, with the 0.4 pre-installed). Smaller nozzles allow the machine to print in fine detail, while the larger ones allow for faster prints.
Swappable nozzles for greater detail or faster print speed.
Efficient Cooling
The Ultimaker 2+ comes equipped with powerful fans which aim the air directly below the nozzle, blowing equally from both sides, which allows for efficient cooling and high-quality prints.
Optimized airflow allows you to get smoother prints
Reviews
Globally recognized, award-winning performance
The prints are what you expect from an Ultimaker: crisp, clean and incredibly impressive… Most printers have that default layer height at about .2mm, but Ultimaker printers halve that at .1mm, resulting in prints that automatically look better than their competitors.
- Make:
The entire experience showed how smoothly an Ultimaker 2+ would translate for use in prototyping and other business applications. Spending extended time with this review unit provided me with hands down the smoothest experience I have personally had using a desktop 3D printer.
-3Dprint.com
Techincal Specifications
Build Volume
223 x 223 x 205 mm (8.8 x 8.8 x 8.1 inches)
Z-Index Resolution
0.25 mm nozzle: 150 to 60 micron
0.40 mm nozzle: 200 to 20 micron
0.60 mm nozzle: 400 to 20 micron
0.80 mm nozzle: 600 to 20 micron
Print Speed
0.25 nozzle: up to 8 mm³/s
0.40 nozzle: up to 16 mm³/s
0.60 nozzle: up to 23 mm³/s
0.80 nozzle: up to 24 mm³/s
Build Plate Type
50 °C to 100 °C heated glass build plate
Get a Custom Quote
Ready to get started? Request a personalized quote for the Ultimaker 2+.
Filament & Supplies
The quality of your filament and replacement parts matter. That's why were your leading source for 3D Printers printing supplies.
Filament
3D printers offer support for several materials with varying applications, including PLA, nylon, PVA, carbon fiber, ABS, kevlar, and more!
See all filaments
Supplies & Parts
3D printers offer support for several materials with varying applications, including PLA, nylon, PVA, carbon fiber, ABS, kevlar, and more.
See all supplies & parts
Service & Support
A printer purchased with ImageNet eliminates the heartache of negligible support.
Our technical expertise and support available when you need it.
Trained technicians that specialize exclusively in handling 3D printers.
Choose the level of support that's right for your organization's needs.