$5,395.00
Regular price
$5,909.10
Availability: In Stock
Shipping: Free U.S. Shipping
Are you an educator? You may be able to receive special pricing by requesting a custom quote.
Request a Quote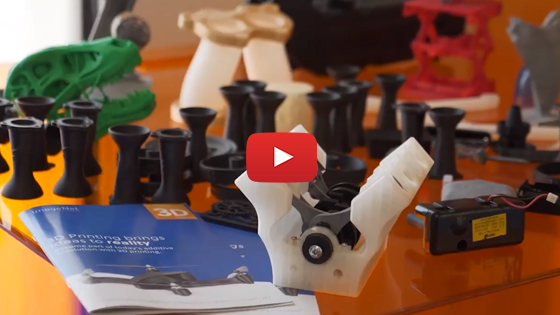 We're passionate about 3D printing.
Watch the video to learn what makes buying from ImageNet unique.
Description
Engineered for efficiency, reliability, consistency, and precision, the Ultimaker 3 features dual extrusion with water-soluble support, advanced connectivity, and an open filament system. Ultimaker 3's unique auto nozzle-lifting system ensures a smooth, professional finish with every print!
The Ultimaker 3 Bundle includes the award-winning Ultimaker 3, along with everything you need to begin making intricate, reliable 3D prints today!
What's Included in the Bundle
Ultimaker 3
Print Core AA 0.40
Print Core BB 0.40
Print Core AA 0.80
Print Core BB 0.80
Print Core AA 0.25
Ultimaker 3 Advanced 3D Printing Kit
Ultimaker 3 Maintenance Kit
Enhanced Service Plan
PLA - 8 spools. All colors available
PVA - 4 spools. 750g.
Additional Features
Dual Extrusion
Ultimaker's dual extrusion allows the user to combine build and water-soluable supports to print detailed and complex products or print in two colors or materials. This machine also features a unique automatic nozzle-lifting system allowing for a smooth finish.
 Dissolvable Supports
Using Ultimaker's unique and reliable dual extruder system, create intricate designs and simply remove the supports by submerging in water. Ultimaker's PVA is created specifically for this machine and is an ideal support materials for Nylon and PLA models, allowing the user to print deep internal cavities, large overhands and complex details. 
Ultimaker 3 print before and after dissolving the PVA supports. 
Material-matching Nozzles
Ultimaker's unique, material matching nozzles with customized geometry for certain materials allows the user to create perfect results with every print.
Swappable Print Cores
 Quick and easy print core swaps allows the user to have a high uptime and easier maintenance. The Ultimaker 3 and 3 extended machines come with print cores for build (AA) and water soluble support (BB) materials. 
The print cores are easy to access and swap.
Optimized Cooling
The Ultimaker 3 and 3 extended feature a powerful, low noise fan system, with 2 new and unique radial fans and shrouds, allowing for increased pressure build-up and improved air flow. This allows for better cooling, better bridging, quicker prints and smooth surfaces.
 Active Leveling
A capacitive sensor measures the distance between the nozzle and the build plate and adjusting the z height in the first layers to compensate for the tilt angle. This increased build plate adhesion and allows for reliable remote printing.
The Ultimaker 3's bed plate is heated and removable.
Monitor Prints Remotely
The user can send prints quickly to the Ultimaker 3 or 3 Extended using WiFi, LAN or the Ultimaker app and check progress via the live camera. This system can support multiple users controlling and monitoring prints and the USB and LAN connections allow for uninterrupted prints 24 hours a day.
Wi-Fi connected camera for remote viewing.
Reviews
That is not the only smart feature either because the Ultimaker 3 includes automatic bed-leveling, for helping to prevent and correct any printing mistakes which might occur along the way. The 3D printer additionally has the ability to automatically detect the print material you chose and adjust its settings to fit.
Luke Dormehl of Digital Trends
To be more attractive and valuable to people like engineers and designers, the Ultimaker 3 is both more powerful and automated than its predecessors, with the idea that a user can upload a design, click print and pick up a finished part without any issue.
Michael Molitch-Hou of Engineering.com
Techincal Specifications
Build Volume
Left or right nozzle:
215 x 215 x 200 mm (8.5 x 8.5 x 7.9 inches)
Dual extrusion:
197 x 215 x 200 mm (7.8 x 8.5 x 7.9 inches)
Z-Index Resolution
0.25 mm nozzle: 150 - 60 micron
0.40 mm nozzle: 200 - 20 micron
0.80 mm nozzle: 600 - 20 micron
Build Plate Type
20 ˚C to 100 ˚C heated glass build plate
Get a Custom Quote
Ready to get started? Request a personalized quote for the Ultimaker 3 Bundle.
Filament & Supplies
The quality of your filament and replacement parts matter. That's why were your leading source for 3D Printers printing supplies.
Filament
3D printers offer support for several materials with varying applications, including PLA, nylon, PVA, carbon fiber, ABS, kevlar, and more!
See all filaments
Supplies & Parts
3D printers offer support for several materials with varying applications, including PLA, nylon, PVA, carbon fiber, ABS, kevlar, and more.
See all supplies & parts
Liquid error: Error in tag 'section' - 'extra-3d-conte nt' is not a valid section type