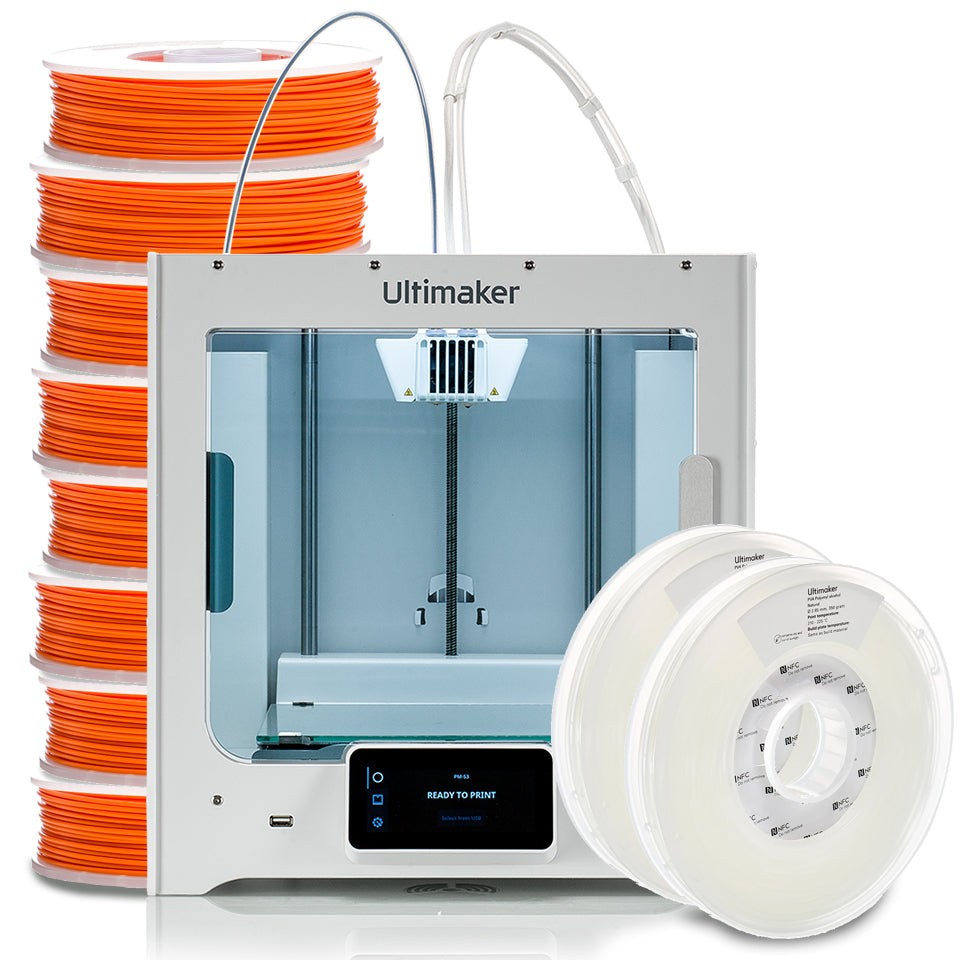 Availability: In Stock
Shipping: Calculated at Checkout
Are you an educator? You may be able to receive special pricing by requesting a custom quote.
Request a Quote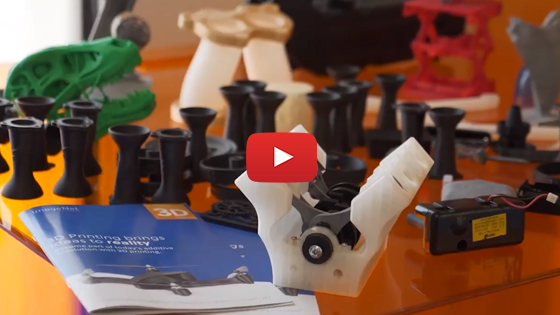 We're passionate about 3D printing.
Watch the video to learn what makes buying from ImageNet unique.
Description
Big performance, smaller device, itty bitty footprint.
The latest edition to Ultimaker's S-Line of 3D printers, the Ultimaker S3, packs an incredible feature set into a small package. From composite-ready dual extrusion to the easy-to-use software, the Ultimaker S3 delivers a powerful, cost-effective, in-house 3D printing option.
The Ultimaker S3 was designed so that anyone can achieve high-quality results after a 30-minute introduction.
Bundle Includes
1 Ultimaker S3 3D Printer
8 PLA Filament Spools
2 PVA Filament Spools
Features
Ultimaker took the awarding-winning features of the Ultimaker S5 and baked them into the smaller, more affordable Ultimaker S3, making it a dream machine for teams and businesses exploring the effectiveness of in-house 3D printing. Limited space or budget? No problem! The Ultimaker S3 offers:
A smaller build volume (230 x 190 x 200 mm)
Composite ready dual extrusion
Reinforced feeder wheels – For abrasion-resistant 3D printing
Dual filament flow sensors – Increases print success rate
Advanced active leveling – Start your prints off right with reliable first-layer adhesion.
High-accuracy stepper drivers – Enables quieter, more consistent prints.
Rigid printer frame – Improves print quality
Single glass door – Controls build environment
Optimized internal design – Maintains a high build-volume-to size ratio
Internal power supply – Allows for easy setup and with no power brick needed
4.7 inch touch screen – for easy control and workflow
Improve your design and print workflow with Ultimaker's seamless software and hardware! Export CAD models, select your printer and materials, confirm details and layers, and send the file for printing! Plus, you can add prints to a queue with Ultimaker Connect.
Easy to Use
The built-in 4.7 inch touch screen with award-winning user-interface makes using the Ultimaker S3 a breeze with step-by-step navigation and setup. New users can begin printing in as little as 30 minutes!
The Ultimaker S3 boasts an award-winning touch screen.
The Ultimaker S3 is optimized with the widest material choice on the market, from advanced polymers to carbon fiber composites, creating limitless applications for your 3D printing.
Unlock the potential of 3D printing with the Ultimaker S3 and get affordable, market-leading 3D printing technology at your desk.
Techincal Specifications
Build Volume
230 x 190 x 200 mm
(9 x 7.4 x 7.9 in)
Materials
Nylon
PC
PLA
ABS
CPE
PVA
CPE+
Tough PLA
Breakaway
PP
TPU 95A
DSM Arnitel ID 2060 HT
DuPont™ Hytrel® 3D4100FL
Owens Corning XSTRAND™ GF30-PA6
DSM Novamid® ID1030 CF10
Z-Index Resolution
6.9, 6.9, 2.5 micron
Build Plate Type
Heated glass build plate (20 - 140 °C)
Software
Ultimaker Cura
Ultimaker Connect
Ultimaker Cloud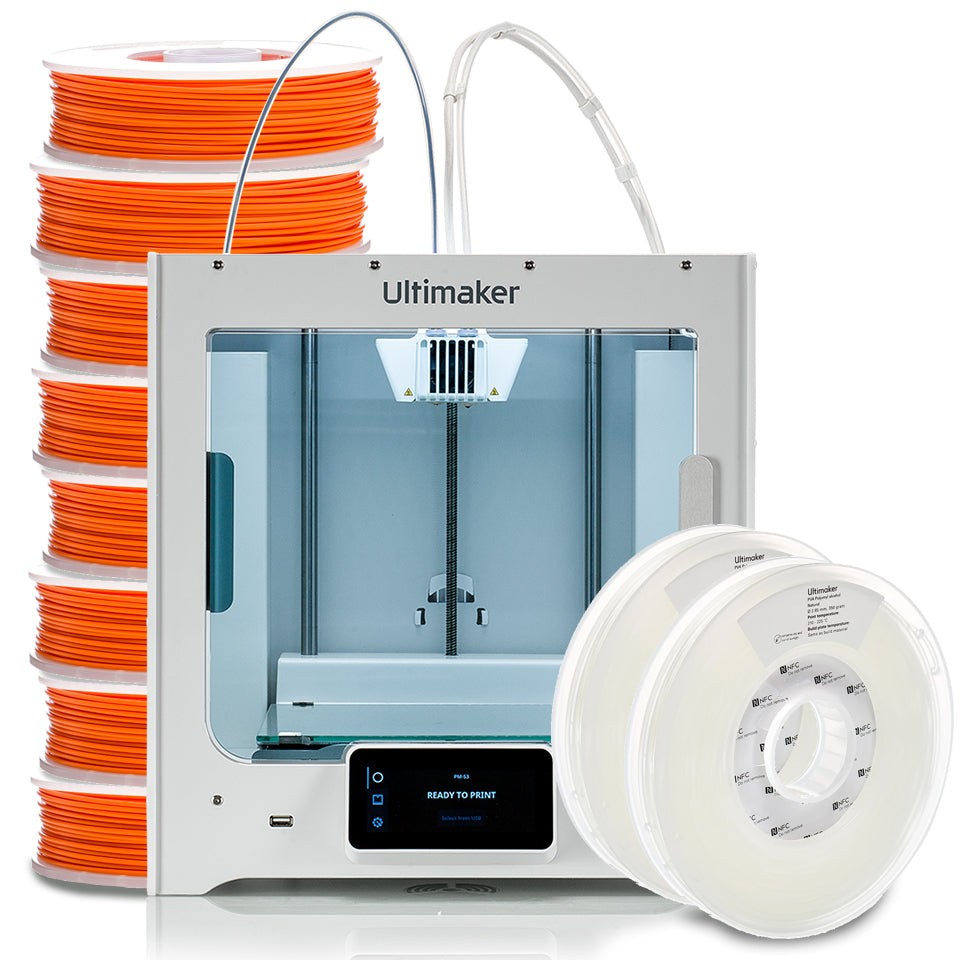 Get a Custom Quote
Ready to get started? Request a personalized quote for the Ultimaker S3 Starter Bundle.
Filament & Supplies
The quality of your filament and replacement parts matter. That's why were your leading source for 3D Printers printing supplies.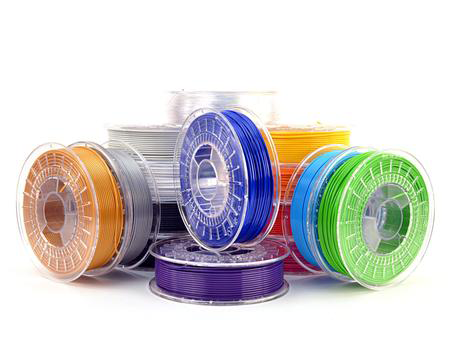 Filament
3D printers offer support for several materials with varying applications, including PLA, nylon, PVA, carbon fiber, ABS, kevlar, and more!
See all filaments
Supplies & Parts
3D printers offer support for several materials with varying applications, including PLA, nylon, PVA, carbon fiber, ABS, kevlar, and more.
See all supplies & parts
Service & Support
A printer purchased with ImageNet eliminates the heartache of negligible support.
Our technical expertise and support available when you need it.
Trained technicians that specialize exclusively in handling 3D printers.
Choose the level of support that's right for your organization's needs.